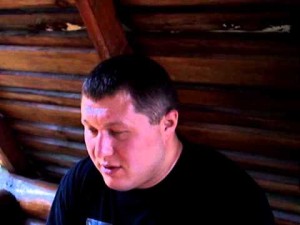 Meanwhile in Belarus …
Here is recent interview with Andrei Aramnau. Translation & Summary kindly provided by Vadim Pakhutkin.
This was filmed at the training base in Staiki, Belarus.
He mentioned some of his Training PRs:
Back Squat: 310×3, thinks he can do 350 x1
Front Squat: 260×2 (two reps, although it wasnt very audible, could be mistaken)
Snatched 210kg for two times (not sure what kind of reps he means though) from blocks, 205kg from the floor, strapped
Jerk from Rack: 260 kg
Push Press with Snatch grip Into Squat Position: 260 kg
Clean Pulls: 260-270 at 3×3
Strict Press (standing): 130-140 kg
Push Press: 205
The now 26 year old has been in the sport for 16 years, 10 of which he competed on international platform.
Currently he has got a minor hip injury. Pinched nerve or pulled muscle. In principle, he can do all the strength exercises, but no explosive exercises. He will let it heal and prepare for the national championships and the World Championships.
On his relationship with the coaching staff:

"This year we have exceptionally good relations. Fruitful work in progress, there are no differences. For a long time weightlifting has not seen a time without differences among athletes and coaches."
On his Bodyweight:
Between competitions I often gain weight, even once scored 123 kg. It was not the most sensible solution, I was always out of breath. (Andrei is 173cm)
Doesn't do 1RM attempts in Clean Pulls, because he doesn't consider it important for weightlifting. Focusing instead on speed and endurance in a lighter 3rep set
He had been Power Cleaning in training until he was 17, but afterwards he realized that this is not a good exercise due to high risk of injury. Back then he Power Cleaned 195kg (at 17).
He wants to compete at a powerlifting meet someday to prove that Olympic lifters "don't just hide at their gyms, and are not afraid to compete in strength sports". [probably meaning either Squat-only or Deadlift-only, he didn't clarify]
The interviewer [Raw and Strongman Federation of Belarus] said they would gladly make Aramnau's wish come true.
In his program, Bench Press makes a cameo appearance only once a month or so. He benched 160×2. He hasn't attempted a 1RM, but thinks he could do 180. His chest is not strong enough so he presses with a narrow grip.
Training Program
He trains 9 times per week.
Monday, Wednesday, Friday: two practices per day
Tuesday, Thursday, Saturday: one practice + sauna on
Sunday is off
If it's a double-practice day, then on the first (morning) practice he usually does 3 Snatch-related exercises, and then 3 C&J-related exercises on the second practice.
If it's a single-practice day (Tue-Thu-Sat), then he usually just focuses on strength exercises – Pulls, Squats, Good Mornings
The interviewer asks when they can see him compete in Strongman or Powerlifting
Andrei answers he will not switch to any other sport professionally.
How long are you planning to compete in weightlifting?
"I would do it for all my life… But you have to use common sense, you have to finish somewhere at 28 or 32. When I'm that age there will be Olympic games, in which I would like to participate. Especially for the Olympic cash reward health can take a beating."
What do you want to do after your athletic career?
Andrei wants to  be a coach. "The only thing I'm good at – lifting the bar. I want to convey that knowledge that has accumulated over my career. The main task is to make weightlifting easier accessible and known to people."
More Andrei: Browse through the Andrei Aramnau Category on ATG.