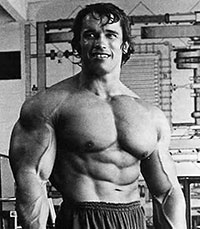 Check out this interview with Arnold "I make my protein drink with whiskey" Schwarzenegger.
It's about bodybuilding and its perception by the public, getting women, and doing your own thing.
Don't know how much of it is true or made up. But it's a fun read nonetheless. And it's a quote gold mine.
The best example I can think of was one day when Franco Columbu walked into the gym, went down into a squat with 500 pounds on his shoulders and couldn't come back up. Someone had to lift the weight off.
I reminded Franco that four people from New York were watching the great Franco Columbu, the world's strongest bodybuilder, crashing down under a mere 500 pounds. "Franco," I told him, "this is very embarrassing. There are a lot of people here watching and they think that the muscle magazines are all bullshitting."
He looked around and started breathing heavily, so I pushed it further. I bet him $20 in front of everybody that he couldn't do another repetition and then offered an additional $50 if he could go on and do eight reps. "Bullshit!" he screamed. "I did it a few weeks ago and I can do it again."
Out of the door he went, took a few deep breaths and came back to do ten repetitions with the same weight—not eight but ten. Do you think his body changed? No; his body was the same, his power was the same, but he was motivated. He ripped the weight out and just started going up and down as if there were no end, as if he were going to do 50 repetitions.
I'm a competitive bodybuilder; I'm not training just to be healthy. Ninety-five percent of the people training with weights are into this health thing, and it's a different mentality entirely. As far as I'm concerned, it's bullshit; otherwise I wouldn't drink. I make my protein drink with whiskey. People think I'm crazy, but that's the way I am. I get stoned, I do my own thing.
There are bodybuilders who are afraid of indulging in sex or even of playing other sports for fear of harming their bodies. I think that's silly. What's the use of building your body if you don't use it? At the Mr. Olympia contest in 1972, we had girls backstage giving head, then all of us went out and I won. It didn't bother me at all; in fact, I went out there feeling like King Kong.