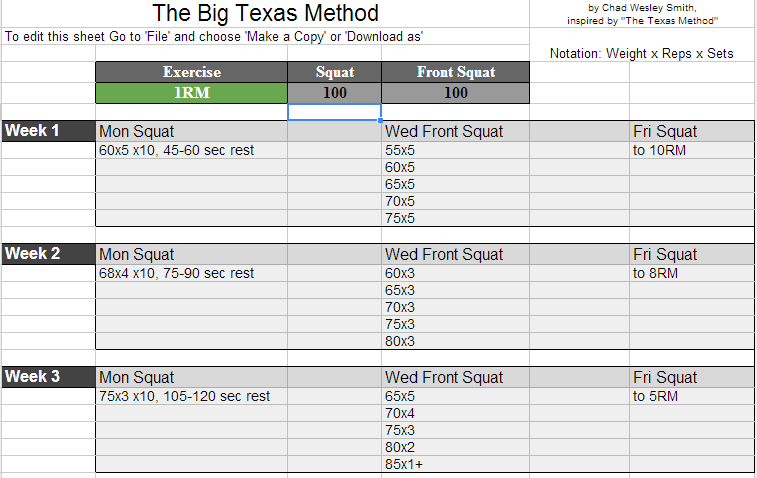 Attention: If you are looking for a Spreadsheet for the Original Texas Method, click here.
Download:
choose File – 'Make a Copy' or 'Download as' (xlsx for excel for example)
So I was thinking 'What to do after 13 weeks of Smolov?' (get your Smolov Squat Program Spreadsheet here).

I wanted to continue squatting 3 times per week. So it came in handy that Chad Wesley Smith and from Juggernaut Training Systems posted the following program in a newsletter he recently send out. For ease of use I made it into a spreadsheet.
Update: He has since then renamed it to the "Cowboy Method", which includes not just the squat program.
This is a 13 week program. He called it "The Big Texas Method", because it's also based around the idea of of squatting 3x per week, using  high/medium/low volume days (2x Back Squat and 1x Front Squat).
They say it's aimed for beginner/intermediate lifters who would benefit from more volume than the regular TM suggests.
Notes:
Just like in the original Texas Method, don't be deceived by the relatively light volume days. It's the intensity days (Max Out Fridays) on which you must push for new rep maxes. As Justin wrote in his Texas Method ebook, "

This "intensity day" is a gauge to see if adaptation occurred as a result of the 

volume day stress

".

Chad recommends doing small manageable jumps on your rep maxes on Fridays
about the suggested rest times… Call me lazy, but I will only take them as a guide and won't freak out if I take 30 seconds or a minute more rest
Here is a Squat Walkout & Hold Explanation