Here is a great photo of Lu Xiaojun doing Snatch High Pulls.
Guillotine style!
Rob Macklem snapped it in the training hall of the 2011 World Championships in Paris.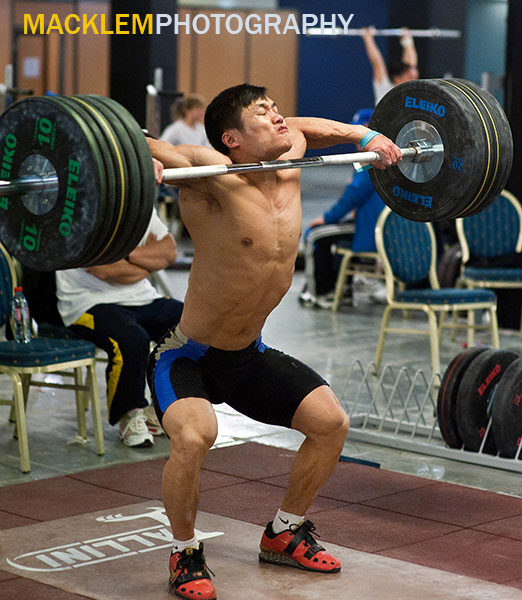 Here is what Rob said when I asked him about the photo:
---
No particular story, other than I like to shoot the diversity of exercises the Chinese use. I have been around Olympic Lifting for almost 45 years and have seen mostly everything.
A variation of this exercise was done in the 1970's and 1980's usually to a full body extension and onto toes. To instill good technique, this is probably not the best idea.
I liked the Lu variation; elbows high and to the side and feet flat, and the timed knees and hips dropping. There would probably be a number of "experts" who would not even like the way Lu does them.
The impeccable timing of Lu makes the exercise seem useful… at least for him.
I think Lu is the best technician of the Chinese. He also seems to truly enjoy every moment of the training process and he's therefore the most fun to watch and photograph.
The week in the training hall before the competition is probably just a "working holiday" for him.
Cheers Rob
PS: Please note my biases
In my opinion what these elite Chinese do in training has little or NO relevance to the training of the typical North American lifter, and it plays no part in my programming.
I would hazard a guess that just like the Russian system you cannot just copy the end elite result of a "system" without going through all the stages of the system.
Because their system starts with 8-9 year olds and talent selection there would be very few lifters on this side of the world with these credentials.
There are no shortcuts and you can't skip steps in the process from novice to international class. Also in this age of instant gratification the process cannot be accelerated.