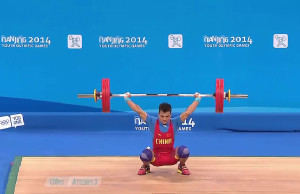 Meanwhile in China … at the Nanjing 2014 Youth Olympics.
Update 14.10.2014: Here is a 130kg Snatch by him.
17 year old Cheng Meng from China won the 56kg setting World Records throughout
Snatch: 120, x128, 128kg (equals his own YWR)
Clean & Jerk: 140, 155kg World Record, x160kg
Total: 283kg
So calm. So superior.
(Disregard the Title in the video. It was "only" a C&J WR)
More about Chinese Weightlifting: Larry's Chinese Weightlifting Experience


Update: Side View