Meanwhile in Russia …
Folks I am in Moscow for the Klokov Power Weekend!
Arrived here, dropped the luggage off, ate something and went straight to the competition venue to film a little tour. This is the place they built for the 1980 Moscow Olympics. It's quite impressive from the inside and outside too. Lots of history in this place. Dmitry's father, Vyacheslav, became world champion here in 1983 [video].
Competition Exercises for Klokov Power Weekend:
Saturday: Hang snatch, Snatch Deadlift, Thruster!
Sunday: Rack Jerk, Front Squat, Power Clean + Press.
Update 19.06.2015: Part 2 of Dmitry's footage, with his final speech.
Translation of the Speech
(Thanks to Sergiy for that)
Like Misha Koklyaev said, I didn't make it. It's too late.
Well, these 2 days have come to the end. I am very happy. When I just started thinking about all of this, I had this athletic anger to do better than my dad, just like in my weightlifting career.
I beat him in weightlifting by getting a higher total than his best. In 2005 there was a competition here hosted by him as a president [of the RWF]. And I wanted to do better than him. I wanted to host a better competition.
Now I understand how unimportant this was.
This holiday was done for all of us, for you. Today they told me that everything was organized professionally. What will we take from this day?
We will take the emotions that were given to us by my friends who came here from different countries. They made this competition alive. They gave an international status to it. All these guys who stepped on the platform today, as well as many other people, made this competition successful. Thank you, athletes. Thank you, other assistants.
There was a lot of work for the loaders during these two days. Judges… Audience, thank you too. You give us emotions.
There are 10 most courageous guys in front of you. It was very hard to make athletes come here. Nobody knew what to expect from this. But you [athletes] did it.
I am very happy that you are leaving this place without injuries. The biggest injuries here were Vasily's calluses and Demanov's toe. His foot doesn't even fit in a weightlifting shoe. I think this is nothing for such a challenge.
Finally, as I promised, I will announce whether I will end my professional career or not.
All these stars that came here knew for a long time that I am finishing. They came here to support me. Thank you for that.
This is the day I announce that I am ending my weightlifting career and will never compete at Worlds or Europeans. Even if I didn't want to say this, it would have to be done one day.
Today I feel that I am more needed outside of the platform. We have enough guys to lift and win medals at Worlds and Olympics. I am going to a place that is meant for me, so I will stay there.
I will try to make a not very interesting sport of weightlifting cool, popular, safe, and loved by everyone.
I wanted to do it long ago, but was waiting for this competition to do it here.
[After the speech, Dmitry asked all the guys to sing a final song with him.]
Update 13.06.2015: Klokov has started to post videos of the weekend, brilliant footage!

Update 08.06.2015: Power Clean and Press!
Update 05.06.2015: Part 2 from Oleksiy Torokhtiy.
Update 04.06.2015: Here are all Front Squats!


Update 03.06.2015: Here are all lift from the Rack Jerk event.
Vasiliy got really close on his 245kg attempts. The night before we were talking about this exercises and how he hasn't done it in like 8 years.
Update 02.06.2015: Here is Dmitry's 192kg World Record Thruster.


and here are all Thruster attempts, finishing with Vasiliy Polovnikov's attempts at 200kg. He told me during dinner (we ate borscht and lamb shashlik, very tasty!) that he was ready for 200kg. That day it just didn't work out due to problems in the warm up area.
Update 02.06.2015: Andrei Aramnau in the Klokov Power Weekend Warm Up Area.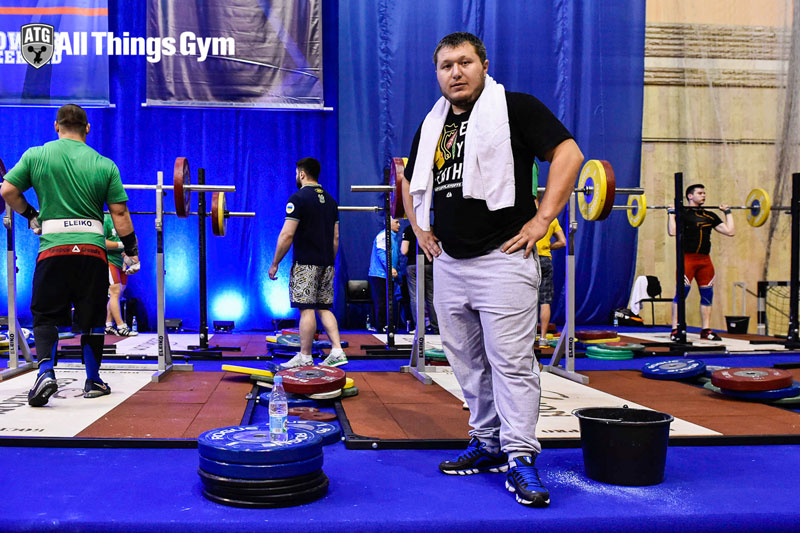 Right before the Max Jerk from the Rack event I asked him about his best result in that exercise.
His answer: 260kg!
During the whole weekend Andrei was a lot of fun. He is just a really cool, down to earth kinda guy, like all the big names I met.
Currently he is injured (hip) and doesn't get any financial support from the Belarus federation.
He currently plans to visit the US later this summer, to do seminars along with Vasiliy Polovnikov. This is still in the planning stages

Update 01.06.2015: 3 long nights and endless karaoke sessions later I am back home. Videos of all the lifts follow during the next days.
Here is the Snatch Grip Deadlift Session.
Results After Snatch Deadlift: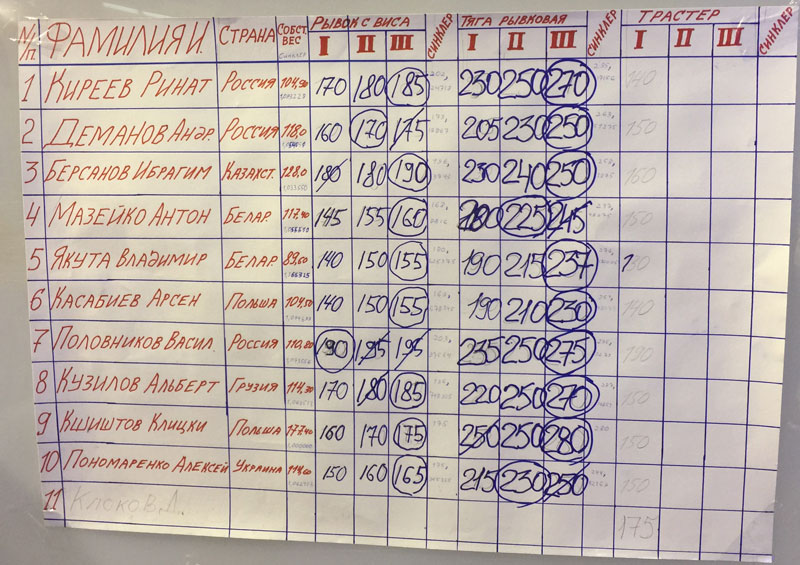 Update 31.05.2015: Day 1 Video from Oleksiy Torokhtiy.
Sunday
After he announced his retirement from professional weightlifting, Dmitry Klokov was celebrated for the great man that he is.
With pride he can look back on 20 years in the sport for which he has done so much. I am sure he will continue to be involved in it in some form or another.

Thank you Dmitry for being such an awesome dude!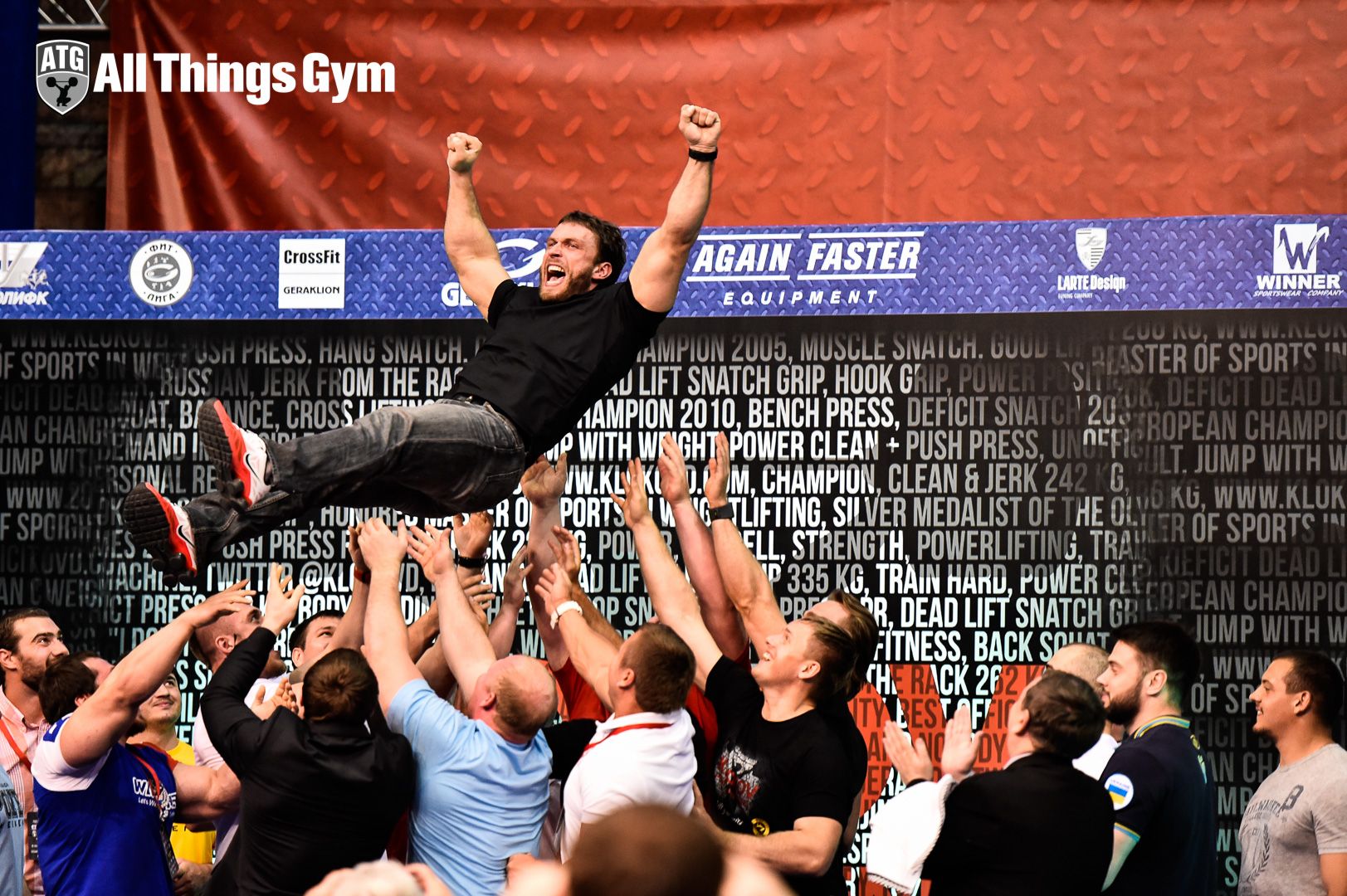 The last lift of the weekend!
Saturday
Awesome day!, I just came back from dinner with Vasiliy. Super nice guy. I had my first borscht and lamb shashlik.
Hang Snatch Video:
Vasiliy Polovnikov won with his 190kg opner (missed 195 and 200). Ibrahim Bersanov also did 190kg.
Results after Hang Snatch: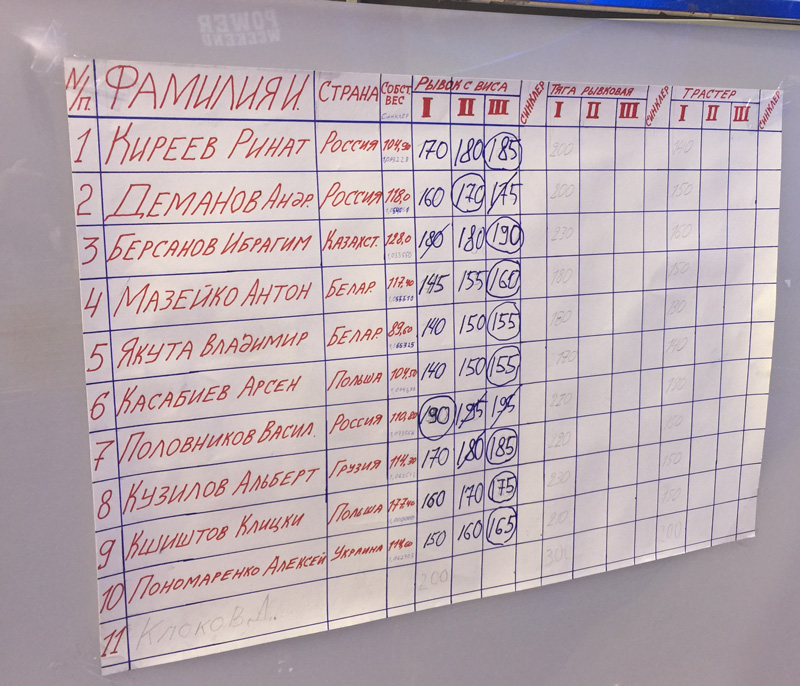 Video Tour:
Dmitry doing the First Lift on Platform
Full Results:
| | | | | | | | | | | | | | | | | | | | | |
| --- | --- | --- | --- | --- | --- | --- | --- | --- | --- | --- | --- | --- | --- | --- | --- | --- | --- | --- | --- | --- |
| | | | | D1 | | | D1 | | | D1 | | | D2 | | | D2 | | | D2 | |
| | | | | HANG SNATCH | | | SNATCH DEADLIFT | | | THRUSTER | | | RACK JERK | | | FRONT SQUAT | | | POWER CLEAN & PRESS | |
| NAME | COUNTRY | WEIGHT D1/D2 | 1 | 2 | 3 | 1 | 2 | 3 | 1 | 2 | 3 | 1 | 2 | 3 | 1 | 2 | 3 | 1 | 2 | 3 |
| | | | | | | | | | | | | | | | | | | | | |
| Rinat KIREEV | RUS | 104.9 / 104.5 | 170 | 180 | 185 | 230 | 250 | 270 | 160 | 175 | 180 | 220 | 230 | 240 | 260 | 280 | 290 | 110 | 120 | 125 |
| Andrey DEMANOV | RUS | 118 / 118 | 160 | 170 | 175 | 205 | 230 | 250 | 150 | 160 | 170 | 200 | 220 | 230 | 225 | 230 | 240 | 120 | 125 | 130 |
| Ibrahim BERSANOV | KAZ | 128 / 128 | 180 | 180 | 190 | 230 | 240 | 250 | 160 | 170 | 180 | 240 | 250 | 260 | 250 | 265 | 275 | 125 | 132 | 137 |
| Anton MAZEIKO | BLR | 117.4 / 116.7 | 145 | 155 | 160 | 200 | 225 | 245 | 150 | 160 | 170 | 190 | 210 | 230 | 225 | 240 | 265 | 110 | 120 | 130 |
| Vladimir YAKUTA | BLR | 89.6 / 89.2 | 140 | 150 | 155 | 190 | 215 | 237 | 130 | 130 | 143 | 180 | 190 | 195 | 210 | 225 | 230 | 90 | 100 | 105 |
| Arsen KASABIEV | POL | 104.5 / 101.6 | 140 | 150 | 155 | 190 | 210 | 230 | 140 | 155 | 160 | 150 | 160 | 170 | 210 | 220 | 230 | 105 | 110 | 115 |
| Vasily POLOVNIKOV | RUS | 110.8 / 111 | 190 | 195 | 195 | 235 | 250 | 275 | 190 | 197 | 197 | 220 | 235 | 245 | 270 | 280 | 290 | 130 | 140 | 150 |
| Albert KUZILOV | GEO | 114.3 / 115.4 | 170 | 180 | 185 | 220 | 250 | 270 | 160 | 175 | 185 | 210 | 220 | 230 | 240 | 250 | 260 | 110 | 120 | 125 |
| Krzysztof KLICKI | POL | 177.4 / 178 | 160 | 170 | 175 | 250 | 250 | 280 | 150 | 160 | 170 | 230 | 230 | 240 | 260 | 280 | 280 | 120 | 130 | 135 |
| Oleksii PONOMARENKO | UKR | 114.6 / 115.1 | 150 | 160 | 165 | 215 | 230 | 250 | 155 | 165 | 165 | 200 | 210 | 215 | 230 | 240 | 255 | 100 | 110 | 120 |
| Dmitry KLOKOV | RUS | ? | – | – | – | – | – | – | 175 | 185 | 192 | – | – | – | – | – | – | 150 | 160 | 162 |