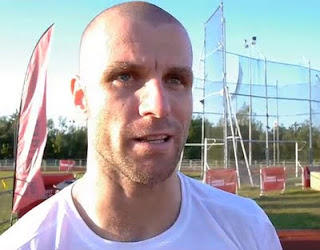 Mikko Salo
Here is an Interview with 2009 CrossFit Games Champion Mikko Salo.
Download in Quicktime
Download in Windows Media
Download in iPod/iPhone
In this interview, Mikko Salo talks about the eye opening experience of placing fifth at the 2010 CrossFit Games, how he's moved forward as an athlete over the last year, why Juha Kangasniemi is the perfect coach, and the role of emotions in life and competition.
His training for the 2011 Games started two days after finishing the 2010 Games, where he was disappointed with his performance.
Skill training became more important to him.
At 31 years old, Mikko thinks that he's only got 2-3 years left competing in him. Something I seriously doubt. Mikko has the athletes mind and would surely be able to compete a couple of years more.
His training template looks like this:
After doing something like Power Cleans, he will do some sort of strength training. That could be weighted pull-ups, push presses or stuff like that.
Following this strength work he will do something like this:
10 min AMRAP, rest 5 min
15 min AMRAP, rest 5 min
5-10 min metcon
…
That sounds grueling. But this is what it takes to win the games.
You also have to keep in mind that Mikko is still working as a firefighter. He says, this is a great balance for him and helping him to keep his mind from constantly thinking about CrossFit.
His shifts are 24hours work and 72 hours off, giving him enough time to workout and prepare.