Greg Everett answers a question about Flexibility for Overhead Squats.
First, overhead squat all day every day, even if it's ugly and shallow. Fight to achieve the correct position and sit in as far as you can in that correct position, hold for a few seconds, then reach a bit further even if you feel the position slipping and hold there longer. Continue this process as you address the inflexibility with other means as well.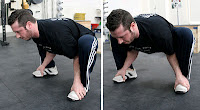 Russian Baby Maker Stretch
Stretches that will help you:
and lying straight knee hamstring stretch while pulling the leg across the body to get more lateral hamstring
Russian baby maker stretch – feet a little wider than normal squat stance, toes forward, hands hold the top of your feet, put elbows between your thighs, push elbows out into your thighs, slowly drop your hips into a squat.
Hold these stretches for as long as you can stand it. Don't stretch to the point of agony, but make it uncomfortable. You can do some PNF stretching as well. I like to hold the stretch for 30-45 sec, then do 6 sets of 6-second contract/relax, then hold another 30-45 seconds.
And on Ankle flexibility:
Stretch the calves in a bent knee position by either squatting or lunging and leaning your forearms on the thigh just at the knee to apply pressure to close the ankle. Hold right down the middle primarily but you can also move the knee inward and outward slightly and hold.