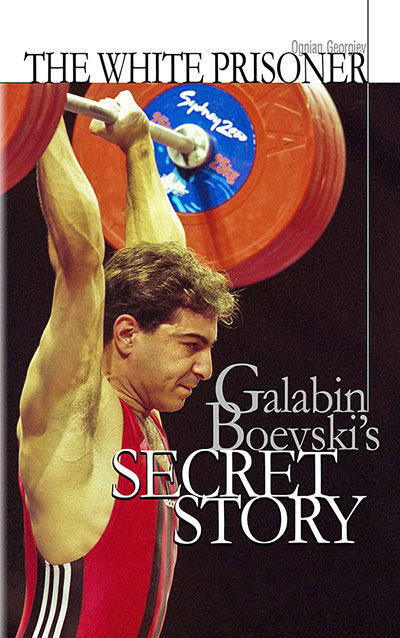 Here is an sneak peek of "The White Prisoner – The Secret Story of Galabin Boevski".
I got an advance copy of the book and really enjoyed the read.
That's why I asked Ognian Georgiev, the Author, to provide a couple of excerpts for you.
The book will take you on a journey through various episodes of Galabin's eventful life.
In addition to his upbringing, the struggle in training camps under Abadjiev, the book also does not shy away from topics like his ban and doping practices in the Bulgarian team.
It's a really nice read for any weightlifting fan. I suggest pulling up videos of the lifters and competitions mentioned in the book, so you can appreciate what went on during that time.
The hard copy of the book will be released on May 30th. A digital version will be available for download later on.
Like The White Prisoner Facebook Page to stay updated.
Update: Here is Excerpt #2 and here is part 3
Update: The book is now available
---
Training Camp in Pernik
The last workout in Pernik was at its peak.
The big star Yoto Yotov was feeling at home. On the neighbouring platforms Galabin Boevski and Damian Damianov, who was removed from the national team, were getting ready.
The heavyweight division talent still hadn't forgiven Abadjiev for his expulsion.
"You have to be very careful with the Senior Trainer. If he doesn't like you, you will have trouble," bald headed Damianov says. He talks slowly, and his words are full of hate.
"You will see for yourself his system is not the best. The coaches say in the old days he had 7-8 men in every division. The choice was wide. It was a massacre. He didn't care if you damaged yourself, because there were others waiting. If you got injured, he wouldn't even remember your name. He is doing the same thing now, and we are ten men in the team."
I will train using my personal trainer's program"I will train using my personal trainer Hristo Boev's program. We had the best results that way," Galabin agrees, because he had heard what the training sessions were like under Abadjiev.
"I hear he is preparing Georgi Markov for your category. He is very strong," Damianov added.
"Even better for both of us. We will compete with each other," Boevski said happily, as he was afraid of no man.
"You are smart to keep away from the thugs during your ban. It's a lot more complicated now for me. You can see they don't want me in the national team. I don't know what is going to happen, but I have to earn cash some way," added the World junior champion.
"Things are better now in the club. It is very important for an athlete not to have to worry what his wife and children are going to eat," Boevski, whose results were stabilizing daily, confirmed.
"I feel sad when I start going to camps, and don't see Paul and Sarah. It's a complete pain to keep us isolated for so long."
"It's a pain for you, but essential for the likes of me, so we don't get distracted," said Damian Damianov, who was not one of the strictest regime followers among the elite weightlifters.
***
Training Camp in Lahti
Abadjiev had gathered the national athletes for a camp before the 1998 World Championships in Lahti (Finland).
Four years after the European Championships for juniors in Rome, Galabin had a chance to set foot on an international stage. This would be the second big competition, after the Europeans in Riesa, in which the men's categories would be cut back.
It would be 8, down from 10.
Galabin doesn't have much of choice. His previous category – 64 kg, no longer existed. He had gained some weight and it is clear there is no way he could compete in 62 kg, where Sevdalin Minchev had an almost reserved place in the squad. His goal was 69 kg, where Plamen Zhelyazkov had established his position.
About twenty weightlifters are competing for eight positions in the national team. The battle would be tough.
***
On Smoking
The knock on the door was followed by a calm "Get up".
Ivan Abadjiev was the only coach in the world to personally wake his weightlifters. Galabin got up and reached for the pack of cigarettes.
The window was wet with condensation during the night, and outside the dirty Sofia mist was obscuring everything. On the second knock [Georgi] Gardev jumped up and opened the window.
"Georgi, shut it, we will catch a cold!" Boevski breathed out.
"Galab, if you don't throw away that cigarette, I won't close it," grumpily Gardev replied, using the short form of Galabin's name.
"Oh come on, why are you pretending to be a non-smoker?" Galabin said as he put on the national team's tracksuit.
"Am I smoking – yes, I am, but I never light a cigarette before noon," the weightlifter from Pazardzhik sniffed and headed for the bathroom. At least there the air wasn't smoky.
"Here, I give you my word – if I become an Olympic champion, I will stop smoking," Boevski vowed.
if I become an Olympic champion, I will stop smoking"Ha ha ha," Gardev laughed and even splattered the mirror with toothpaste. "It would be easier for you to become an Olympic champion than quit smoking".
Ivan Abadjiev didn't cause trouble over smoking. All athletes knew it was not healthy for them. The bad habit had a serious effect on football players, boxers, athletes and cyclists who used their lungs more.
For weightlifters smoking was harmless, and most of the athletes in the national team always had a stash of cigarettes.
Galabin tried smoking for the first time in "Olympic Hopes" [a prestigious sport school]. It was just showing off at first. Ten boys gathered money together for a box, which emptied quite fast.
The talented sportsman from Knezha [Galabin's home town] started smoking seriously after the doping scandal in 1995.
***
Galabin was lifting hard during training. Things were working out.
After each session Boevski went back to the room and opened a lined notebook. He marked his progress and kept everything according to plan.
In the evenings the weightlifter, who would turn 24 in a month, called his uncle. He gave an account of his progress.
They were discussing the problems on the technical side. Galabin was pleased with the progress he had made. Abadjiev too. The Senior Trainer decided to trust Boevski who officially became part of the national team's squad.
***
On one of the last training sessions prior to leaving for Finland Galabin put a wet shirt on his back. He was warm and didn't feel the cold seeping into his back.
Abadzhiev didn't accept injury as an excuse for failureThe pain came on steadily. Two days before the competition his shoulder blade was hurting badly. The doctor was helpless.
He explained the muscles contracted faster due to the sudden change in temperature. The pain was coming from a pinched nerve. The trauma could be healed in a couple of days, if treated correctly, but at its peak it made the body very sore.
"Doctor, I feel like a cane, what should I do?" Galabin, worried, asked on the day of his competition.
He knew Abadzhiev didn't accept injury as an excuse for failure. If he had to, the Senior Trainer would let a weightlifter compete with one arm.
"The injection would not help a lot," the national team's doctor replied. "Bear in mind, that when the barbell presses down on you, you will have trouble breathing."