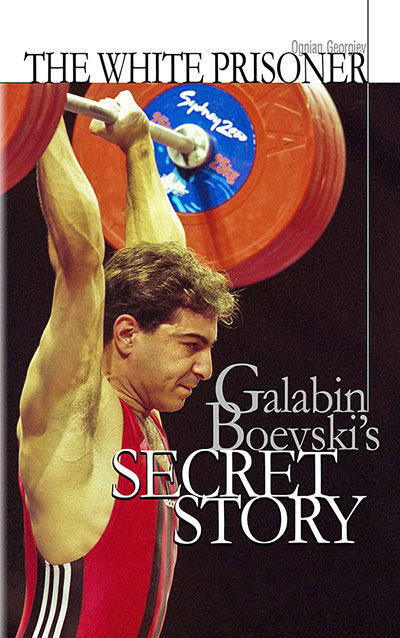 Here is the 3rd excerpt from the book "The White Prisoner – The Secret Story of Galabin Boevski".
Read Excerpt #1 and Excerpt #2 here.
The book is now available:
---
The camp in Malaysia was the last stage of the national team's training for the Olympics in Sydney.
The Bulgarian stars are lifting record weights every day. The stress is not so intense anymore. However, Ivan Abadjiev wants their good results to become stable.
He decides it is not good enough and sees the weightlifters one by one in his room.
"Georgi, what's going on?" Boevski can't wait to question his friend, who returns from his meeting with Abadjiev.
"He offered me some stuff, ampoules, but I don't know what it was. I refused. Now he is asking for you, Galab," Gardev replies.

The weightlifter from Knezha heads for Abadjiev's room. Their relationship is not good. The coach accepted he could not control Boevski's training. The specialist knows it's better to leave alone one of his potential medalists, as long as he lifts well in training.
There is one more man in the Senior Trainer's office – the general secretary of the Federation, Norair Nurikyan.
"Are you going to use this stuff?" Abadjiev asks and points at a box.
The name of the drug is obscured by medical tape. There is one ampoule outside the pack, also unidentified.
"No, because I don't know what it is. I don't want anything from you. I take whatever I need," Boevski replies directly.
"Wait, wait, coach, prepare one for him," Nurikyan tries to defuse the tension.
"If he doesn't want it, I won't force him," the legendary coach mutters feeling insulted.
A couple of minutes later, Boevski returns to the gym. Gardev raises a questioning eyebrow.
"Fuck him! I refused too," Galabin laughs.
***
"Today I am disappointed by Gardev and Galabin's behaviour," Ivan Abadjiev begins the evening talk.
The two weightlifters are over it. They are already in Malaysia and there is no way for The Senior Trainer to get back at them. If they were in Bulgaria, they may have thought of taking the medication. The risk was that they would be thrown out of the team straight away, despite their results during training. The stand of The Lizard came to mind. Stefan Georgiev got expelled for swearing, and he was almost certain to compete in Sydney.
"These athletes refused to take the medication I offered," The Senior Trainer goes on. "Because they are very smart and know everything, very soon they will discover they are not so smart after all, when they go to the Olympics and fail."
For Abadjiev a bad performance was to finish fourth, and sometimes not to finish first.
"From now on, I take no responsibility for them," the coach continues his scolding. "They may do whatever they want. They will be responsible for the failure!"
"Well fine, there is nothing more to say," Gardev replies, after exchanging a glance with his friend. "It's all clear. We don't think it is necessary for us to attend the meeting, if you don't find us interesting and don't wish to make any more comments to us."
***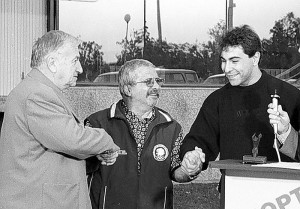 The cunning fox Norair Nurikyan hasn't given up. He is a lot more diplomatic than the despotic Ivan Abadjiev. With pleas and jokes he managed to persuade the two rebels.
"Boys, this is a powerful weapon. It's called Orocetam, and will give you a lot of power," Nurikyan starts, but fails again. "Come on, how long do I have to argue with you? Tomorrow I want you to try it."
"Norair, I start to feel uncomfortable with you on our backs all the time," Gardev says, laughing. "Honestly tomorrow I am going to try it. I will prove to you it doesn't work. I have already taken this in Bulgaria. Abadjiev stuck 3-4 shots of that stuff up my backside, and the usual dosage is one. Then I felt my brain moving. I felt as if I had hit my head against the wall, I'll get a hole in my forehead. On top of all after that I got injured and my knee started to hurt."
Galabin also agrees only to satisfy Nurikyan.
***
"Coach, go on, prepare two doses," says Nurikyan, who brought in Galabin and Gardev.
"Well they are not here yet," Abadjiev says, seeing the two weightlifters at the door.
"Prepare two shots I tell you," Nurikyan raises his hand.
"Prepare for whom?" The coach continues to play dumb.
"For these two," the Federation's general secretary is persistent.
"Well they don't want it," the Senior Trainer continues to play his role of the aggrieved party.
"Now, if I tell you something, you do it," Nurikyan finishes, as he comes closer to the table.
Abadjiev smiles, pulls out the box with Orocetam and fills two shots. He has won the psychological battle.
---
To see what happens to them after they took the shots you have to read the book.