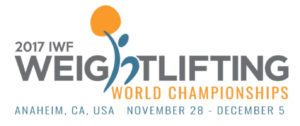 The 2017 IWF World Weightlifting Championships in Anaheim, USA are approaching fast.
This page will be update throughout the event.
When: 28.11 – 05.12.2017
Useful Links
Results / Live Scoreboard
Live Stream – will be updated once live streams become available.
News
Update 20.11.2017: The Organizing Committee will provide a free, live webcast at www.usaweightlifting.org. The webcast will be blocked in countries where TV rights are sold. Copies of the webcast will not be available, due to TV rights restrictions.
Update 07.11.2017: Entry List (PDF). Note that as always the FINAL Start List will be published a couple of days before competition after the final verification meeting.
Update 05.11.2017:
This happened during our stay in Albania for European Juniors, but now it's official. Other Albanian team members got their visas approved. Talking with Albanians (and the letter seems to confirm it), just like with Rostami, the issue seems to be proving the will to return to Albania after worlds.

Sketchy Google Translate (via)
I went back to the US Embassy in Dubai [there is no US embassy in Iran] and presented my credentials, even taking several million with me to prove to them that I would return [proving the will to return was one of the main issues].

At the height of disbelief, the authorities said that we do not need any proof of you and your case follows the procedure, even for them, the money was to be deposited to set up the re-election. I hope that my visa will be issued as soon as possible, so that it ends.

Olympic champion weightlifting added: "It's not a matter of accepting a host country to host the tournament, but it does not give the world's top players a chance to be present in those countries. I've been practicing and weighting for months to succeed." I followed my training well and I am in full readiness.

"The federation sent me a letter to the camp prior to the start of the camps," he told the coach, saying: "There should be one person as a coach." The only person I could introduce was my brother. The authorities could not allow my brother to accompany me and There is no problem, but I'm taking my energy from my brother, but I'm under the law.