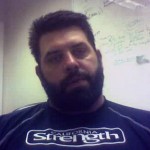 Glenn Pendlay did a Q&A session on his ustream and gave away some good advice.
Topics:
[00:20] high blocks do more reps with higher weight, use them once or twice a week
[03:30] doing push presses for bigger overhead presses, press 3 times a week with a variety of exercises
[06:45] front rack position partner stretch
[14:20] Adam Hall describes how he built the pulling blocks that Glenn likes so much.
[18:50] Arm wrestling & how weak Jon North is 🙂
[22:00] Working through tendonitis if you can. If not decrease snatches, pulls…
[27:00] beginner programs should be general guidlines, longer training = more individualization
[31:10] on John Broz training methods
[37:30] state of US lifting in the global scope
[41:30] training weight 5% over weight class
[48:30] Is doping that big of an issue? Glenn thinks so.
[56:20] Zygmunt Smalcerz hates fat people