Rarely do you ever hear or see something about Vietnamese lifters. So here is a profile on the 56kg Worlds Silver Medalist and Junior Snatch World Record Holder – Kim Tuan Thach.
Thanks to reader Minh for the translation below.
Translation
[0:40]
MC introduces Thach Kim Tuan, who shined in SEA GAMES 2013. He then introduces Ms Vietnam 2013 as a guest. I don't feel like translating the next segment, since it's more about her
[5:10]
It shows the "Athletic Training Center Phu Tho". This is the training center for national WL athletes in Ho Chi Minh city. 7 years ago, there was a young little boy who came here requesting to train WL. And now, he has brought many glorious victories for Vietnam. This is the place, day after day, where he seeks out perfection. This is Thach Kim Tuan.
He was born in a poor family with 4 kids in rural Vietnam. Before joining WL, all the Thach children were weak, with poor health, and the possibility of them being athletic is slim.
Despite being poor, Tuan's oldest sister took extra responsibilities to take care of her younger siblings. She stopped going to school in grade 6, taking up odd jobs to make ends meet.
In 2006, Thach Kim Tuan and his older brother, Thach Kim Anh were encouraged by their friend to go lift some weights. To Tuan and Anh, they thought of WL as a means to escape poverty. Through some luck, they met Coach Huynh Huu Chi.

[6:26]
Coach Huynh Huu Chi: My athlete, Nguyen Duc Thang, born 1989, told me that next to his poor apartment, there are 2 brothers who would like to take up weightlifting. So then I took a taxi ride from this training center to where the Thach brothers lived. This was in 2006.
I met the two brothers. Although they were smaller in stature, but their bodies were solid. After some examination, I realized that they were strong and agile, so I agreed to take them as my students.
[7:08]
Thach Kim Tuan: A friend in my neighbourhood asked me if I wanna take up weightlifting. I said sure, let's try it out. A week later, coach (Huynh Huu Chi) came to our house and accepted us in. I was so happy. I didn't have to pay training fees, and also I got some stipends so I can help out my family.
At first, coach only let me practice with a stick, ensuring I got the right position, flexibility and can hold the tension in those positions. Only after I was consistent in positions, then I got to work with the barbell.
[7:44]
Coach Chi: When Tuan and Anh started, I also had 2 other new athletes. After 3 months, Anh stopped because he couldn't handle the training program. After two years, the other 2 athletes left. So only Tuan remained.
At first, he was unpredictable. But one thing about him was consistency. If there were 2 sessions a day, he could handle it. If there was only one session in the morning, then he would finish the session, then took the bus home.
Secondly, he didn't talk much (* see footnote 1). It was hard to tell whether he was tired, sad, depressed. He handled the training very easily, no matter the intensity/frequency/volume. He also understood the techniques and training principles very well.
[8:35]
Tuan: at first, training was tiring and heavy. After a while, my body got stronger.
Overall, coach was very supportive and encouraging for me and my training. I never skipped a practice. He rarely yelled at me. He only yelled at me if I made a mistake after being told numerous times that day. If I made a mistake once that day, he only reminded me.
[9:05]
Coach: After 1 year and a few months, I took Tuan to a competition: National Youth Championship. It was his first competition, competing at 50kg. He took 2 silver medals.
[9:17]
Narration: Tuan's beginning was very difficult. But after 7 years of training, his medal collection is near 100, impressive for any athlete. But to him, it's all just the start of his journey, therefore he always strives for perfection, in a sport that helped him change his life.
In this little modest house in Go Vap District, Ho Chi Minh City, this is where he lives his daily life. He bought the house in 2012, with the money rewarded from weightlifting achievements after years of his family living in a small rental property.
At 3 years old, Tuan's mother passed away due to a traffic accident. Because life was so tough, the 5 siblings rented a small room in Go Vap District, and the oldest sister took lots of odd jobs to raise her younger siblings.
[10:21]
The camera shows the food Tuan would eat at home. Very unassuming I guess?
[10:32]
Thach Giang Huong (oldest sister): life was tough. Our father was an alcoholic, drunk all day. He beat our mother often. After a while, she couldn't take it anymore, and she took the 5 siblings to Ho Chi Minh City to live. She left 1 sibling to our dad.
We went to Ho Chi Minh City when Tuan was 1, and our mother passed away when he was 3, 1997. When she passed away, I was only 15. I was thinking of dying with her, because I love her so much. But then I thought of my younger siblings, they wouldn't have anyone to take care of them. So they were the reason for my life, I live to take care of them.
[11:16]
Tuan: Growing up, my mom passed when I was so young, I don't have a clear memory of her, but to this day I still miss her lots. My friends normally go home after school, and call "mom". But for me, after school, I have no mother to call "mom" but my oldest sister is like a mother to me. She always takes care of me.
[11:49]
Huong (oldest sister): When Tuan started winning the first three medals, we got 1.5mil Vietnamese dong ($70 USD) for each. I used that money plus some of mine to buy a scooter for Tuan so that he can ride that to training everyday. Because before that, taking the bus was long and uncomfortable.
[12:03] The camera shows the inside of the training facility.
Narrator: the path to success hasn't always been smooth. There were many difficulties in certain stages of his development. There were many injuries due to training, to the extent the doctors told him to stop training. But with the encouragement of his family and friends, he overcame the obstacles.
[12:29]
Coach Chi: I always notice: Tuan is very calm in competitions. Another thing about him, and it's not just weightlifting, from soccer, Sepak Takraw (I highly suggest you guys youtube this sport), he always shows speed and agility.
This has a lot of carryover for him, therefore he's really good with the Snatch. In the Clean & Jerk, he's not weak, but as he's growing taller, it's harder for him to stand up with heavier weights. Once he can stand up from the Clean, his Jerk is very stable and efficient.
Because of his tenacity, he managed to do 140kg Clean & Jerk in his third attempt in the Youth Championship, beating the Chinese athlete.
[I skipped the next segment because the MC asks Miss Vietnam what she thinks of him. Typical answer stuff.]
[15:12]
Narrator: every athlete in competitions always wants to win the gold medal, and the financial reward, but success was not always for the majority of people. Coach Chi has been working with Tuan through thick and thin, since his beginning.
[15:34]
Coach Chi: 2011 was a successful year for Tuan, where he won Jr Asian Championships, as well as Jr World Championships. In Asian Jr Championship, he broke 3 Jr World Records . And some of these records have stood since 2005. Tuan Snatched 127kg, and Clean & Jerked 153kg.
Video: Here is his 134kg Snatch (2nd attempt) from Worlds. His 135kg Jr WR here.
[15:58]
Pham Hong Dao (53kg lifter, totaled 160kg as a youth lifter): In training, Tuan is very pleasant and easy going. If there are young new lifters who don't know anything, Tuan usually helps them.
[16:07]
Coach Chi: This boy has good personality. He rarely argues with anyone. After becoming famous, his personality never changed. There are lifters that are his senior (been lifting in the facility longer than him) who are not as established and successful.
If they give him tips, pointers and if he can't take it anymore, he will stay quiet and go to another platform to practice. He never brags and pulls achievement as a way to win arguments, and he never picks side, or forms clichés. He never bullies anyone, but bullying him is impossible.
Photo: Kim warming up at the 2014 Worlds. (More on that Ankle Stretch here btw)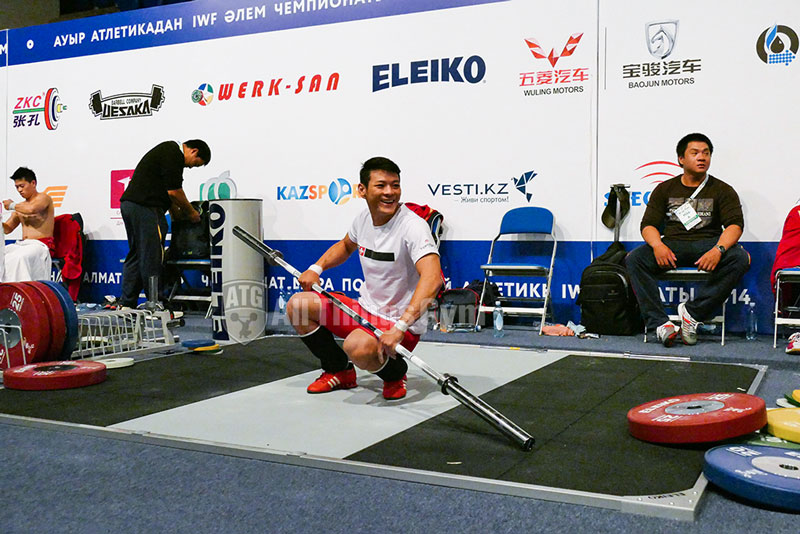 [17:05]
This goes back to the recording studio, where the MC and Miss Vietnam interview him. Some generic statement like they are proud of him, and Miss Vietnam asked him how he can lift so heavy (D'UH????).
He said he started out small, with just broomstick to ensure joint and tendons are good to go in certain positions. Then I will get to use the barbell, doing Pulls and Presses. After a few years, after my body got used to weightlifting, only then coach allowed me to go heavy.
Upon being asked, he said Miss Vietnam won't be able to handle weightlifting. He said the government recruits kids to get into weightlifting.
Here's his normal training day:
0730: breakfast
0800: warm-up starts
0900: lift
1200: lunch , nap
1500: lift till 1800
He goes over his Diet and Budget:
Every month, the government gives him 6 mil VND (about $280 USD). It averages out about 200 000 VND ($9 USD) a day. After I buy the meats (beef, chicken, pork etc), I spend the rest to buy protein shakes to consume right after training.
Miss Vietnam says eating too much will lead to weight gain, he talks about weight management and weight cutting for competition.
MC asks him about difficulties, and if he has ever thought of quitting. Tuan said his life was full of difficulties, that's why he turned to weightlifting. I was happy to be accepted into weightlifting and be able to help my family.
Also, I am proud of representing Vietnam internationally. So for me, growing up, I always just practice, never thought about quitting.
He lives a simple life. Goes to practice, goes home. Goes to competitions, wins and gets awarded. All his financial reward, he gives to his oldest sister. She is the biggest motivator to him. Also, he quit going to school at grade 6 to get into weightlifting.
He has been encouraged by his coach and teammates to pursue education so that he can be a coach after his career.
*1: in Vietnamese culture, quite stoic resiliency is considered a very manly trait.