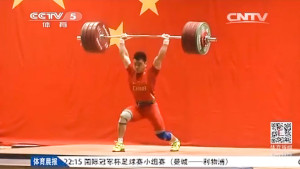 Meanwhile in China …
The Chinese Weightlifting team ran a test event in their training center. See the women's session here.
And Liao Hui (69kg) did pretty good. How Good?
He got the 200kg Clean & Jerk and a 365kg Total, ergo also a 165kg Snatch.
Update 30.10.2014: Finally, here is the 165kg Snatch Video
Just to put these numbers in perspective:
Update 07.10.2014: Side View
Updates: Infos from seminar attendees
"He also took an attempt at 210kg and just Clean Pulled it. He went from 200, to 210kg and didn't take his third attempt after the 210kg Clean Pull" (via).
Liao has a 280kg Squat and 255kg Front Squat (via).
Note: he did not make weight for this event (via). Nat said: "nothing was posted, but the center judge said 72-73 range".
More Chinese Weightlifting: Read Larry's Chinese Weightlifting Experience.
Translation
Big thanks to Steve and Toh Jia Jun.
The Chinese weightlifting team has already been training for international competition for a good portion of the year, and this competition was held to test how the training was coming along. This is a fairly important competition in regards to the competition in September (I think they are referring to the Chinese Nationals.[or Asian Games -G.]) Most of the athletes performed fairly well. Lifters don't have to make weight for this competition, but standards are still very strict.
Liao hui says that he hasn't been able to Clean and Jerk 200kg in training for a bit (10kg off from his 210kg training best), but in competition he feels more energized and focused. While he hasn't hit this weight in competition, he believes he has the ability to hit this weight, which is why in competition he's sometimes stronger than in training (more focus.)
His coach (the head coach of the national team) said that in the period leading up to this test competition, they focused their training "on the basics" – perfecting technique and building strength. He then said that while the lifters here did not lift under strict competition requirements (e.g. not cutting weight), it was important for them to periodically assess their progress.
The head coach basically says that the competition helps them decide which athletes to send to competitions as they can see which athletes can perform well and see who can "utilize" what they learned in training during competitions. He said to send the top 8 lifters to the 2014 Asian games in September.
Original Video:

YouTube Mirror