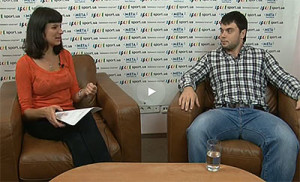 London 2012 105kg Gold Medalist Oleksiy Torokhtiy sat down for an interview about his career, his training and the state of Ukrainian weightlifting.
How to bring back the popularity of weightlifting in the Ukraine?
When I started out, in principle, I knew nothing about it. The only thing that kept me in the sport was my first coach. He didn't attend any special courses for coaches, but he had the talent. He instilled in me that this is an interesting sport.
So the most important thing is to prepare educators, coaches who can spark the interest in children. And, of course, it's important to popularize the sport. You need to cover events in the media.
I'm sure as a child you wanted to be stronger than others. Did you originally focus on power or physique?
I started out at the age of 14I have always stood out among my classmates in that I was slightly larger. But I started weightlifting quite late at the age of 14. Our school had a weightlifting club and all the guys there were tall,had broad shoulders which I wanted to emulate. Perhaps this is why I also went there and became engaged.
Who was your idol in weightlifting?
I didn't have an idol. I tried to take the positive traits from each. There were guys with whom I trained, who have been an example for me, they had something my trainer could not give me . I tried to combine all of that.
How many workouts per day, and how long they last?
We adjust our training for specific competitions. This phase may last for half a year and in a week we can have up to 10 workouts.
In the off season we train 6 times a week for 1.5-2 hours.
What are your plans for the year and are you going to be at the world championships?
I am preparing for the world championships with the team, but most likely I will not go.
I really started late this year. I had a big break for almost six months. So the focus is shifted to the next year's european championships and the world championships.
I can show results that this sport hasn't seen in a whileDo you think that you're going to improve in each movement as well as in total?
Actually, I haven't showed my best results in competition so far, so I think it's reasonable to expect gains in both snatch and clean & jerk. I bought into the training that my coach proposed to me. I can show results that this sport has not seen in a while.
What is your diet like?
When there is targeted training, I'm gaining weight up to 110 kg, then we need to hold the weight, focus on protein foods, low-calories. Then the diet plan, we coordinate everything with chefs, and they are trying to feed us accordingly. Under normal conditions I can afford to eat everything, but I try to eat healthy foods. Although sometimes I eat a Big Mac, and lard. I am very fond of my mother's and grandmother's Borscht and cakes.
Do you plan to move to the category of +105?
I have thought about this, but I stopped myself. For a smooth transition into this category, you need at least three years of gaining weight to get the desired result. This is quite a long period of time, so I'm staying in my weight and I think this is the right decision.
You're getting ready for the Olympics in Rio?
When I was asked this question after the 2008 Beijing Olympics, I said no, but it turned out that I did. So I don't know yet. I would like, but we'll see how it will turn out.
What made you stay in the sport after failing at the Beijing Olympics?
As surprisingly as it sounds, but it was the financial aspect. I almost quit the sport and was looking for a job. But my coach was approached by a guy who used to train with him and he offered to finance certain stages of my training. It was a small amount of 1,5 -2000 hryvnia [1 Hryvnia = $0.12 US, so that's $185-250 US]. And because I couldn't find a job I had to stay in the weightlifting with the thought that I cannot find anything better. And you have to do what you know how to do. Already 6 months later at the European Championships I got second place and showed some good results. That gave me strength and confidence.
Who now sponsors your training?
Is "Epicentre" Sports Club, which since 2009 sponsors the men's weightlifting team. Nutrition, pharmacology, etc– thanks to them it is all taken care of. I have often said that 51% of my medals are that thanks to the people who support me.
Can you earn money and provide for yourself with weightlifting?
I guess you could, but only on one condition. You need to win. You should almost always be the first or the second. And that is very difficult.
After the Olympics you have been given a State Award. Has it somehow had an impact on your wealth?
I think many years from now I will still have the opportunity to go to the store and buy those products that I want, but if you talk about something big, I think, in our country and in my sport it's hard to cash in on yachts and villas. But those meetings and handshakes have a certain status.
What is your attitude towards a sport such as strongman?
I have always had a positive attitude to any kind of sport. It's always nice to look at healthy men who lift kilos and gather an audience. Everyone has their own way. I found myself in weightlifting and switching to strongman would be unwise. I do not have the necessary proportions that would be adequate in this sport.
What are your best results in the Snatch, Clean and Jerk, pull, Front and Back Squat?
My Military Press is only around 90kgMy best snatch in training is 200kg . Over the last years I have really added kilos to this movement. In the Clean and Jerk 240-245kg is my best, which I've lifted many times. With regard to the basic exercises like pulls and squats, I have stopped doing them because I have a little trouble with his knees. I could never do good at military press – only around 90kg. This is shocking to everyone, but my arms are weak. I rely on my legs in the jerk.
How do you approach competitions, do you have any superstitions?
I try to stay away from superstitions and try to concentrate and listen to myself. At competitions, much depends on psychology, therefore, you need to develop not only physique, but also your psyche.
How do you relax from training and competitions?
After the Olympics I was doing everything except athletics. All the things I could not do for 13 years. This is higher education, and family and repairs, something that I couldn't pay attention to because of the fees.
Why did you choose to be educated in KAF?
2004, the year was one of those periods when I decided to leave the sport, and then decided to enroll in a HAI, because I have a mathematical mind. I passed the exams, enrolled. But after I was again invited to competitions, everything began to turn and I found myself in the sport again.
Do you have a specialty?
Control systems and complex flying devices.
Have you already thought about what you will do after you retire?
I think I will not give up on sports. I cannot say whether it will be in a coaching position or not, but I will be 100% involved in sports. I'm not opposed to try and do administrative jobs. there is a rejuvenation of the Federation, I'd like to be part of that.
Our main problem is financingIs the training of Weightlifters in Ukraine different from those abroad?
Ukraine's school of weightlifting is very good. This is thanks to the USSR, because the Soviet school was advanced in weightlifting. It all works now. Our main problem is financing. In the Ukraine there are so many young coaches, but everything is kept on the old residents who help, who know how to spot the talented kids for good results. The main thing is financing it.
What are conditions in training camp like before a competition?
We spend almost 300 days a year we in a training camp. There are three official ones: base in Crimea, in Koncha-Zaspa in Chernihiv, which comply with the standards. We now run it on minimum, enough to keep it afloat, but how long this will last is unknown. In fact, to show better results, you need to invest a lot of money.
What is the salary of a member of the Ukrainian national team in weightlifting?
3100-3200 Hryvnia per month [$380-390 US, Average gross salary in the Ukraine is 292 € / 381 $, monthly (Jan-Feb 2013)] for me the Olympic champion, rather than just 3000 Hryvnia for an Olympian.
Because of stipends/scholarships, which are issued for 2 years, there is some sort of a gap, but the [base] salaries are the same.
Alex what company do you use for your outfit (singlets, shoes)?
There are very few companies in the market that could compete with Adidas.
The most important thing is the aspiration and willWhat is more important: in weightlifting, strength or technique? What is their percentage when it comes to achieve maximum results?
Neither strength nor technique. The most important thing is the aspiration and will.
It happens often that athletes without physical talent had greater results than those with talent. I only recently understood how hard it is to get results. Nowadays I train at about 10-20% of what I did before.
When I look how younger athletes train, when you abandon everything, when there is no "no", when you feel no pain, when you go like a bull and don't know what the next step will be yourself. Now I understand how hard it is. When you don't go right through everything you won't find your possibilities.
What would you rather have chosen for life: take off and fall down, or remain on a middle tier without particularly positive or negative emotions?
Take off and fall down. I have experienced it so often. Every fall made me climb up again. This is a property of my character, my sport. You have to take responsibility, and decide whether you remain lying down, or stand up and move on. My career has had more misses than hits.
Update: YouTube Video