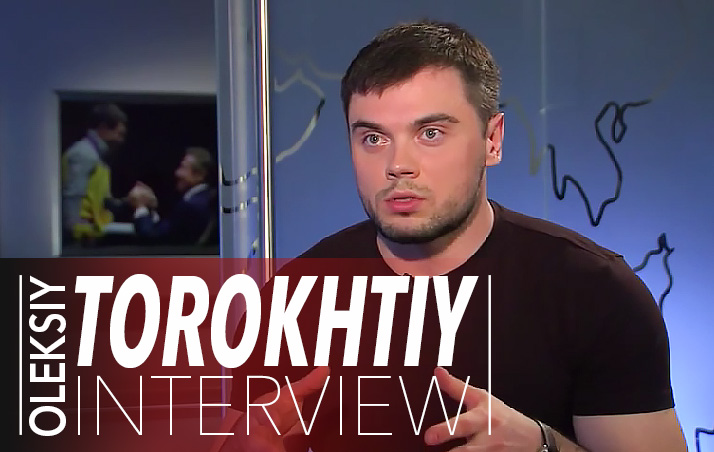 Meanwhile in Ukraine …
It's been over a year since the last Oleksiy Torokhtiy Interview. So here is a new one.
Today the 28 year old talks about his goals and motivation (after having retired after the Beijing Olympics).
Big thanks to Sergiy Turchyn who, again, took the time to translate this for all of us.
For More from Oleksiy: Check out All Oleksiy Torokhtiy Posts on ATG.
---
Some say you are retired, others say you are just taking a break. What is the truth?
It is hard to definitely say yes or no. If my health allows me, I would like to compete in Ukrainian Nationals this year [they are on September 17-21].

You are an assistant coach in youth and junior national team, aren't you?
Well, I would not call myself a coach. I am more of a manager. But when I come to the training camps I often talk to them. I think my goal is to let them know why they are here, why they do it, why the government spends money on them.
When you got into the sport, you mentioned that you could get into a university on a state-funded basis. Did you already think about the Olympics back then?
Once at 14-15 years old when walking with my girlfriend we were taking about our dreams and I told that I wanted to compete in the Olympics.
So, you already had this goal.
I think I was just drawn in. All this routine, atmosphere in sports drew me in and didn't let me out. That's why when I retired in 2008 I came back after half a year. Because I missed it.
You started weightlifting at a fairly young age, 14. Did you try yourself in other sports before?
1-1.5 years of ballroom dance. Didn't get into the finals of Donetsk regional competition, and then I lost the passion.
Did victories mean a lot for you?
I had more defeats than victories in my career. My victories are so spread out, that the defeats probably motivated me to go on.
How did you stay in the sport? Another person would think: "So many defeats. Why do I even need this? That's enough." But you stayed.
You have to believe in what you do. You need to have a dream. It doesn't matter if something hurts; you still get up and train. That's what I miss in the last 1.5 years. I came to gym, but that was more like general training to keep myself in shape. I was not motivated. I did not know the answer to "Why?". Many people told me not to start over unless I find the answer to this question. Maybe, to prove something, or to become a two times Olympic champion.
However, during these 1.5 years off I lived normal life with normal problems. I noticed that I started to pity myself. This never happened when I was training. This is what athletes have that makes them move forward. This is the difference between a winner and a loser.
Today you have found the motivation to come back, right?
Maybe, I want to prove something to somebody. But then why? I don't really have the answer right now. But I do want to train more now.
You said there are people who you want to be like. Who are they?
There are Olympic medalists. People who wrote their name in the Olympic history. And there are people who did the same thing, but continue to do it in a different field. People who help others achieve what they did. Sergey Nazarovich [soccer], Govorova [track and field], Umanets [rower], Anna Sorokina [diving]. I probably forgot about somebody. Basically, those are people who did not stop at their achievements. They continue to work afterwards. I want to be like them.
Why did you decide to retire after Beijing Olympics?
I was 22-23 years old. I was thinking about a family. I am from Donetsk. I was a guest in Kharkov. I had to afford food, clothes, and living. I thought about retiring and finding another thing to do. If you consider the salaries of weightlifters before Beijing and now, you will see a huge difference. Back then we trained almost for nothing. All in all, money was the main reason.
Who brought you back into the sport?
There were two such people. I think one of them doesn't even know that. I went to a job interview. We were talking for about 2 hours. She told me: "We are giving you an offer, but if you don't show up for work in the next 5 days it will be cancelled." I set up an alarm in my phone. I don't exactly remember the details, but I had to go to Donetsk in 4 days. The alarm went off when I was already there. I called her to ask to show up the next day. She replied: "Oleksiy, this is not your place of work. You will remember me, but you will not work here. It is not your thing."
The second person was Oleksandr Gerega [Ukrainian businessman]. He offered me a sponsorship. [Oleksiy's singlet had Oleksandr's company logo on 2011 worlds]
How many tons do you need to lift to become an Olympic champion? Do you have a training log? Have you calculated?
If my coach is not going to watch this, I will say that I never calculated anything. They often blamed me for not having a training log. I planned my training week by week.
My first coach taught me to love weightliftingYourself? What about the coach?
I was very lucky. Each of my coaches gave me something different. My first coach taught me to love weightlifting. My second coach taught me monotonous work. My last coach flipped everything over. He took away the boredom and made training sessions fun.
Once I slept for too long and was 40 min late to the training session. I asked my coach: "Why didn't you call me to wake me up?" He answered: "Nah, it's fine." Or sometimes you don't feel like training and he is like "Sure." I think he understood that a person, especially a high level athlete, is not a robot. You can't put such an athlete on some program and expect him to strictly follow it.
During the Olympics in London you didn't just win the gold. You also carried the flag during the closing ceremony. What did you feel?
Nina Umanets told me. I came to her and she asked: "When are you leaving?" I told her the day. She: "No. You are staying here. You will carry the flag." I don't know how it feels to carry the flag during the opening ceremony, but during closing ceremony it feels just like winning the gold medal. Everybody is watching. You feel proud. It is a very emotional moment.
[Skipped a few boring questions:
about two fans with T-shirts with his picture during the Olympics (doesn't know them)
about what countries he likes (nothing specific)
about where would he want to live (Ukraine)]
You are from the Donetsk region. Where are your relatives: with you or in the war zone?
About a month ago they all moved here to Kiev. We all used to live in a 1-room apartment. All 8 of us. It is hard to imagine, but it was actually awesome. When you walk between the mattresses and somebody randomly touches you…We also had a dog that used to run around. They understand that it is very hard to return there because of the current events and it will not happen soon. However, everyone in our family is very close to each other. We never have quarrels. We are very friendly. What is happening in Donetsk now is a very difficult and painful situation. [Here an image comes up: "During the creation of this video Oleksiy's father died in Donetsk."]
You mentioned thoughts about creating a family. How is it going?
I don't like to discuss this topic, but I can say that I have a girlfriend and the relationship is so good that it is scary.
Would you make your son do sports?
I always change my mind on this topic. Right now I am thinking that I will be against it until I see a real desire in his eyes. I will only let him do it when he really wants to.
How is your friendship with Olga Korobko [75+]?
We don't talk as much now since we are not in the same training camp anymore. But I can say that she has a great personality. When she comes to her native village she buys candies and gives them out to children. She is a very friendly person.
What are your goals now?
There is still a lot to do and to learn. Each month I am trying to do something I always postponed. Each month I set a goal and at least start working on it. The list is long.