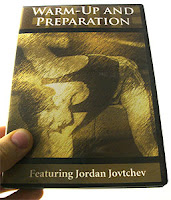 A DVD about warming up? That sounds kind of boring, right?
That was my first thought when I discovered the "Warm-Up and Preparation feat. Jordan Jovtchev DVD" over a year ago.
However, I decided to pick up a copy, because I look at it like this:
Even if there is only one exercise or method that would make me a better athlete, the whole thing would be worth it.
Since I got it, I have taken bits and pieces from the warm-ups shown, scaled them to my abilities and can't imagine doing a warm-up without them.
If you ever wanted a resource for gymnastics warm-ups, this is it.
Who is this for?
Every athlete, fitness enthusiast who takes his training seriously enough to not only think about today's workout, but also about injury prevention and long term progress. Don't wait until you get injured until you bother to look into a proper warm-up routine. Yes gym rat, I am looking at you – do your prehab!
The DVD is especially useful for people like me, who don't have access to professional coaches, gyms or athletes that could guide you through a warm-up. It also provides great options for active recovery on rest days, where I do just a really long warm-up.
Of course, the DVD features top level athletes with extraordinary flexibility and capabilities that make us home gym warriors jaws drop. But that shouldn't discourage you.
Watch it once, then watch it again. Get familiar with the movements. Look for little details. Pick and chose from the over hundred exercises shown and see if you can scale and adapt them to your abilities.
This is a great resource and I still watch it at least once a month to refresh my memory and pick some new movements.
Content Overview
US National Team Warm-up
Narrated by Kevin Mazeika, 2004 and 2008 U.S. Men's Olympic Team head coach.
This is the warm-up he actually uses for his own athletes.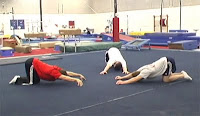 Team Warm-Up
Unfortunately the routine is cut together into a ~ 9 minute segment. It would have been nice to see the whole warm-up in real time and follow the exercises as they are shown.
The actual exercises are great. This general warm-up will get your body ready for some hard work.
Increasing body temperature, ballistic stretches, joint rotations, stretches for every body part, everthing from neck to toe gets covered.
Jordan Jovtchev's short warm up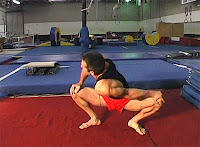 One of my favorite stretches
for shoulders and lower back
Narrated by Jordan Jovtchev himself, this is in real time and approximately 4 minutes in duration.
This maybe doesn't sound like much, but when you know what you are doing, you can get a lot done in four minutes.
We are shown a comprehensive top to bottom sequence you could squeeze in before every workout if you are pressed for time.
Jordan Jovtchev's extended warm-up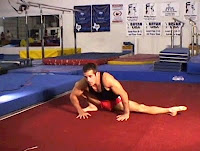 Plenty of leg stretches
This is not narrated  and approximately 9 minutes long.
We are shown more diversive stretches. I picked up a lot of exercises here, especially lower / upper back stuff. Vertebrae by vertebrae your whole body we work our way from the neck to our ankles.
There is some overlap between the three sections mentioned. But because of the sheer number of exercises shown there is something new in every segment.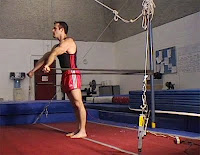 Elastic Joint Preparation
Joint preparation
In this 3 minute segment Jordan does lots of exercises with an elastic rubber band and higher repetitions, mimicking some ring strength elements.
A treat for the shoulder girdle
Pre-Strength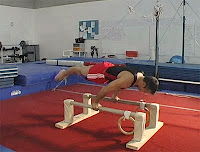 Pre-Strength?
This is where Jordan does things that would be the main part (and beyond) of my workout.
Planches, planche push-ups, pike and straddle presses to handstand, Handstand push-ups. High reps (10+) of everything.
He says, he needs this because the strength elements he needs to get done on rings are so demanding that he can't just jump into them after the warm-up. The whole segment is 5 minutes long.
Actually there is a part of this pre-strength segment on YouTube.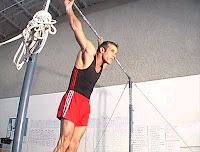 More shoulder stretches
Additional footage
Two shorter segments focusing on additional stretches for your shoulders / rotator cuff, as well wrist and elbow prehab.
Conclusion
Would buy again.
Overall, this DVD delivered exactly what I was hoping to get: an inside look into what makes a professional gymnastics warm-up and a reference I can always go back to in order to keep my warm-up interesting.
Update: Here is me doing some exercises from the DVD in my shoulder warm-up