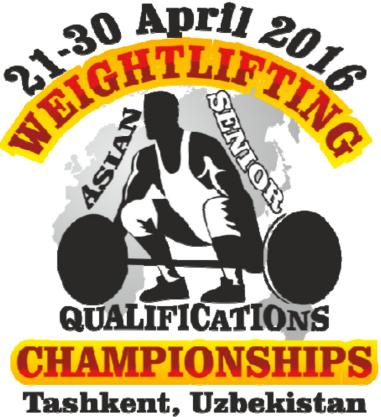 The 2016 Asian Weightlifting Championships are upon us.
When: 24-30 April
Where: Tashkent, Uzbekistan
Useful Links:
Doping News
24.05.2016: Two lifters have tested positive for stanozolol, Sergei Dolgalev (+105kg, Kyrgyztan) & Rustam Khil Esmatullah (77kg, Afghanistan) (via iwf: 1, 2).
Recordings
Highlights
Ruslan Nurudinov Snatching 191kg and Clean & Jerking 235kg
Bahador Moulaei Clean & Jerking 247kg
Vladimir Sedov Winning the 94kg with 175kg + 211kg
85kg Best Snatches:
Denis Ulanov (KAZ), 84.40: 168 kg
Su Ying (CHN), 77.95: 165 kgs
Yu Dongju (KOR), 84.40: 161 kg
19 year old Zhang Wangli Snatching up to 110kg.
20 year old Yuan Chengfei Clean & Jerking 185kg after snatching 150kg.
58kg Best Snatches:
Zhou Jun (CHN): 95 100 103 bw: 57.4
Hsing-Chun Kuo @chun_hsing_kuo (TPE): 97 100 103 bw: 58.0
Li Ping (CHN): 95 100x 100 bw: 56.7


First Training Hall Clips are in!
19 Year Old Zhang Wangli (69kg) Squatting 185kg for a double.


(22.04.2016): The start list has been released by the iwf.
Athletes include:
Li Fabin (56kg, China)
Kruaithong Sinphet (56kg, Thailand)
Nestor Colonia (56kg, Philippines)
Yuan Chengfei (69kg, China)
Kwon Yong Gwang (69kg, North Korea)
Shi Zhiyong (77kg, China)
Lin Qingfeng (85kgB, China)
Denis Ulanov (85kg, Kazakhstan)
Andrei Rybakou (94kgB, Belarus)
Vladimir Sedov (94kg, Kazakhstan)
Ivan Efremov (105kg, Uzbekistan)
Sardorbek Dusmurotov (105kg, Uzbekistan)
Salwan Abbood (105kg, Iraq)
Chen Shih-Chieh (+105kg, Chinese Taipei)
Ruslan Nurudinov (+105kg, Uzbekistan)