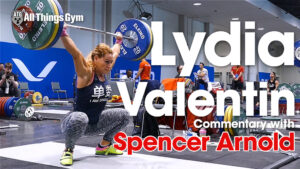 Dr. Boffa recently had a chance to sit down with Senior International Coach Spencer Arnold of Power & Grace Performance. Spencer coaches some of the best of the best from USAW these days: his current athletes include Jourdan Delacruz, Harrison Maurus, and Jessie Bradley Stemo, among others.
In this video we watch Lydia Valentin's training session from the 2017 Worlds and Spencer breaks down why Lydia is one of his favorite athletes to watch. Some of his points include:
her exceptional leg drive through the mid-thigh and extension
her bar path
short vs long dips in the jerk
the importance of accessory work.
These are great insights into why someone like Lydia is exceptional, from the mind of a coach who works with exceptional athletes on a regular basis.
Just as interesting as what Spencer likes about Lydia is where his approach diverges from Lydia's style, and why. If you're interested in being a better coach or developing your critical eye this is essential viewing!