Kelly Starrett takes another look at the Front Rack Position.
First part is about keeping a stable, externally rotated rack position is really good.
Second part is about pointing the elbows down when doing back squats.
For example he says that it unloads the wrist and makes the back more stable.
Here are both versions in comparison. Which has less pressure on the wrists and has a tighter back?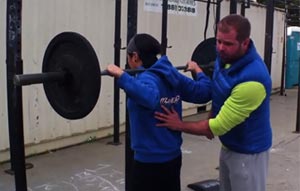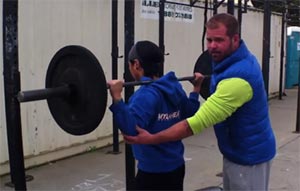 First I thought that elbows back was pretty much how every Olympic lifter squats, but then I took a look at the archive.
It seems to come down to personal preference.
See for example Clarence Kennedy's squat. As you can see his elbows are back and up. His entire upper back is a tight shelf (I would argue tighter than you can get with elbows down) and he still keeps forces his chest up.
Elbows Back Lifters: Some do it more pronounced than others. Ivan Stoitsov does it, Kendrick Farris has his elbows back, same as Pat Mendes, Josh Gilbert, Milko Tokola the Cal Strength lifters, Jessia Salvaggio or Summer Krasinski.
Elbows Down Lifters: most of them still tuck them back a little when coming out of the hole. Idalberto Aranda keeps them way down , as does Fernando Reis. Jirka Orsag also keeps them fairly down.
Your thoughts?