Over at California Strength Glenn Pendlay has a very nice 3 Part "How to Snatch Series" with Jon North, Caleb Ward, Donny Shankle as demonstrators.
The progressions used are really simple, yet effective.
Parte One – Top Pull – Transitioning from Power Snatch to Squat Snatch
set up your snatch grip – bar in hip crease determines grip width
push shoulders back
weight is on heels
bend knees a couple of inches
jump and catch
feet hit the platform the same time the elbows lock out
work towards the squat snatch as quickly as possible
same movement and then add an overhead squat
Power Snatch, then stop at position you caught the bar, from there do an Overhead Squat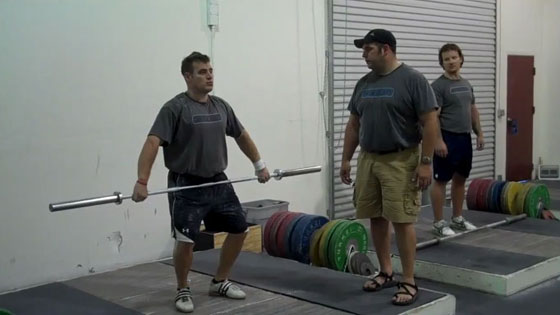 Snatch Bent Knee Position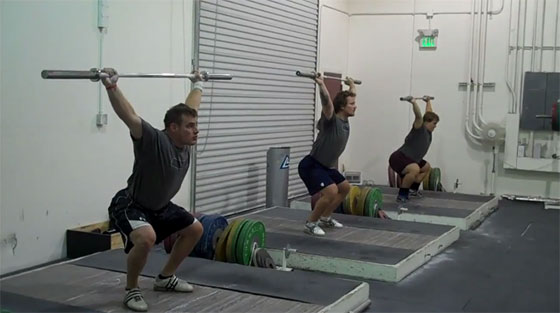 Power Snatch Catch Position
Part Two – Second Pull
first position (bend knee)
from there bend forward and slide the bar to just below the kneecaps, keep the bar in contact with your legs
stop
weight on heels
slowly go back to first position and stop
from there jump and catch the bar
shoulders over the bar
increase speed in transition
when moving up the thigh jump and catch without the stop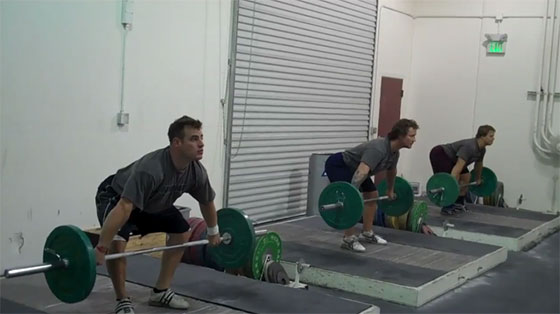 Below the Knee Position Snatch Drill
Part Three – First Pull – Starting from the floor
same drill as above
once the bar goes below the knees, bend the knees to allow the bar to go to the floor
weight shifts close to the ball of the foot
constant back angle
cues: knees-hips-knees-GO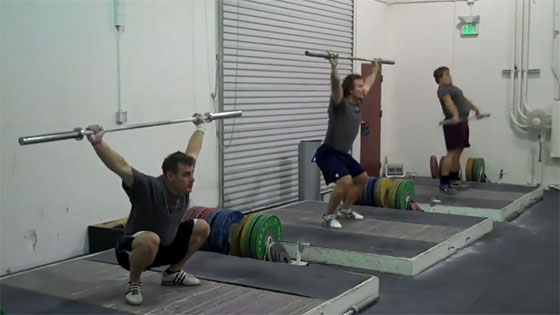 Squat Snatch Catch Position
Want more? Here is another How to Snatch Instruction Series by Nick Horton.