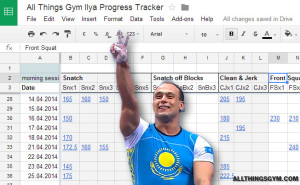 Let's stalk track Ilya Ilyin's progress during his 2014 build up.
A while ago I had the idea to keep track of Ilya's progress. So for each of his videos I started to enter the biggest lifts into a spreadsheet.
This thing will be updated along the way.
Download: Link to the spreadsheet. Go to File –  'Make a Copy' to your Google Drive or 'Download as' (xlsx for Excel for example).
When you click on a weight it will open the video at the time of the lift.
What it is: A way to visualize Ilya's progress.
What it is not: His training program. He does a lot more than what is shown in his videos.
Share ideas, or report errors I may have introduced, in the comments.
Highlight 16.01.2015: Ilya uploads a 290kg Front Squat
Highlight 26.09.2014: After an hiatus here is a XXX(?) Snatch from Ilya

Highlight 29.08.2014: 242kg Clean & Jerk

Highlight 25.08.2014: Ilya hits a 190kg Snatch
Highlight 20.08.2014: Ilya Snatches 205kg off Blocks
Highlight 15.08.2014: 189kg Snatch and 241kg Clean & Jerk (all time PR)
Highlight 07.08.2014: 245kg Rack Jerk
While we're talking 245kg Overhead, re-watch:
Highlight 31.07.2014:
Highlight 20.07.2014: 185kg Snatch and 239kg Clean & Jerked at the Anatoly Khrapaty Memorial Tournament.
Update 07.07.2014 – Observations: His loading pattern when working up to a heavy single is often that of a "Wave" (Ilya refers to them as "attacks". Sportivnypress has an article about them).
Like on the 30.06.2014 videos he did 3 waves for Snatch and C&J:
he worked up to 215kg, then dropped down to 200kg
takes 200, 210 and 220kg for the heaviest weight that day
repeats the process with the same weights (200-210-220)
And he doesn't limit this approach to the classical either, he often uses it for Squats [video] / Front Squats too.
What's more, he doesn't take too long of a rest either (judging from the music in the background). So it kind of resembles competition attempts in a way.
Highlight 15.07.2014: Ilya hits a 195kg Snatch off Blocks! (attempted 200kg)
Highlight 11.07.2014: 237kg Clean & Jerk in Training
Highlight 04.07.2014: Ilya hits a 230kg Clean & Jerk!
… and 186kg Snatch during his 22:00 session.
Highlight 28.06.2014: 235kg Rack Jerk. No Problem.
Highlights 27.06.2014: Here's what happened during his 2nd (17:00) practice.
Ilya hits a 182kg Snatch from the floor, PR
tries 235kg C&J a couple of times
gets a 275kg Front Squat PR (those thicker small reds are 5kg)
Then later during his 3rd session this day (at 22:00) Ilya snatched 185kg!
Highlight 24.06.2014: Ilya hits a 190kg Snatch from Blocks.
Update 23.06.2014: Ilya is now doing 3 training sessions a day.
Highlight 13.06.2014: 181kg Snatch, 227kg C&J and 265kg Front Squat PR (at 5:50)!
Highlight 09.06.2014: Ilya gets a 215kg Clean + Front Squat + Jerk.
Highlight 29.05.2014: Ilya hits a 185kg Snatch off Blocks.
Highlight 23.05.2014: Ilya hits a 225kg Clean & Jerk and 250kg Front Squat.