Meanwhile in Thailand …
It's time for the 2015 Asian Weightlifting Championships.
After long flights Hookgrip, Paula and I made it safely to Phuket.
As always while I can't be on ATG, Phil is helping to update the site.
Links:
Doping News:  Faina Sivanbayeva (63kg Bronze, Kazakhstan) tested positive.
Highlights
Kim Myong Hyok (69kg, North Korea) Snatching 152kg


Sin Chol Bom (62kg, North Korea) Clean & Squat Jerking 169kg on his opening attempt.


20 year old Junior World Champion and 2014 Worlds silver medalist Sukanya Srisurat (58kg, Thailand) snatches 104kg.


Chen Shih-Chieh (+105kg, Taiwan) clean and jerking 245kg


Su Dajin (77kg, China) squatting 280kg!
Just Lin Qingfeng (69kg Olympic Champ from London) banging out some Handstand Push Ups.


Now 18 years old, Semen Linder (85kg, Kazakhstan) snatches 166kg (gold medal) and clean & Jerks 192kg.



Kim Myong Hyok (69kg, North Korea) doing Snatch Grip Deadlifts up to 200kg and getting a back massage at the end of his training.
Jon Myong Song (77kg, North Korea ) snatching 160kg for snatch gold.
Check out his feet during the Pull


Meng Suping (+75kg, China) working up to 165kg Snatch High Pulls.
Xie Hongli (69kg) Clean & Jerking 140kg


Su Dajin (77kg, China) squatting 260kg for a double.


(13.09) Jaber Behrozi (69kg, Iran) winning the ATG award for the deepest catch position at the 2015 Asian championships.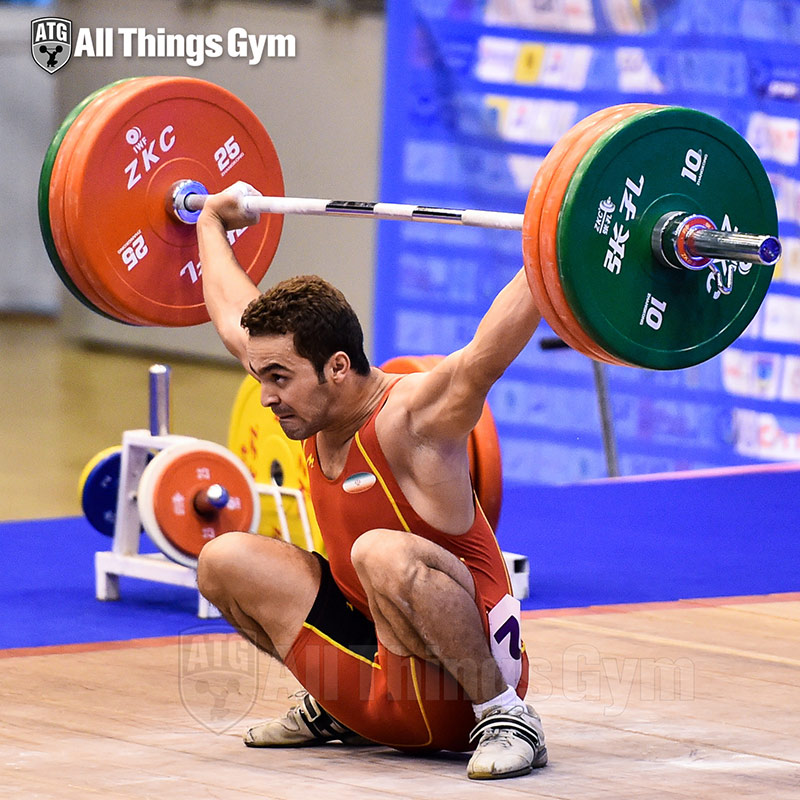 (13.09) Rustem Sybay (94kg, Kazakhstan) with his 216kg clean & jerk that won him the Asian championship title.


(12.09) Li Ping (58kg, China) snatching 100kg for first place at Asian championships.
She holds the current 53kg snatch world record (103kg) and is also a multiple time world champion.
(11.09) Ivan Efremov(105kg+, Uzbekistan) Snatched 193kg, Clean and Jerked 220kg and Totaled 413kg to take home one Gold and two Bronze medals respectively.
Shih-Chieh Chen(105kg+, Taipei) Clean and Jerked 245kg for a 438kg total and the Gold medal.
Rustem Sybay(-94kg, Kazakhstan) clean and jerking 216kg to win. Rustem's Instagram.
(09.09) Ermek Omirtay(85kg, Kazakhstan) Clean and Jerks 203kg to win Asian championships gold. Kim Myong Hyok(69kg, North Korean) Clean and Jerks 186kg.
Wenyu Zhou(63kg, China) Clean and Jerks 135kg to secure all three golds.
(08.09) Bahador Moulaei(105+kg, Iran) attacking a 210 kg clean and jerk while Head Coach (and Olympic gold medalist!) Hossein Tavakoli looks on. Their instagram: @bahadormoulaei_official, @hossein_tavakoli_original
Ding Jianjun(62kg, China) took the lead in the Snatch by 13kg then secured 3 Gold medals in the Clean and Jerk with his second lift, 170kg. (07.09) Hidilyn Diaz(53kg, Philippines) snatching 96kg on her way to become the 2015 Asian champion.  Li Ping (-58kg, China) snatching 100kg/220lb at the 2015 Asian Championships where she won with 100/126/226.
(06.09) Nestor Colonia (56kg, Philippines) winning the Asian Championships 56kg with a 121kg Snatch and 153kg Clean and Jerk. The first Asian Championships gold for the Philippines.
Male Chinese Team Sat Sept 5
Lin Qingfeng(69kg, China) Snatches 140kg and Front Squats 200kg. He will be competing on Tuesday.
Video of the Chinese Female Team in Training yesterday. This includes footage of Huang Yuezhen (48), Yu Yuanyuan (53), Li Ping (58), Xie Hongli (69), Wang Zhouyu (75), Meng Suping (75+). (05.09) Lin Qingfeng(69kg, China) gets his back stretched out. Looks like good improv if you don't have a decompression table. Choe Jon Wi (77kg, North Korea) squatting 220kg for 3 reps today. Meng Suping(+75kg, China) Squats 200kg for a double.
Su Dajin(77kg, China) Squatting 280kg. (after he squatted 260kg for a double btw)
Su Dajin (-77kg, China) in the 2015 Asian Championships training hall back squatting 280kg/617lb followed by a graceful dismount of a 170kg jerk dip (he loaded it back up and did a much heavier weight afterwards). Back at the 2011 WWC, where he placed 3rd, he made a 211kg/465lb clean which is 1kg over the world record in the clean and jerk in his category.

Posted by hookgrip on Saturday, September 5, 2015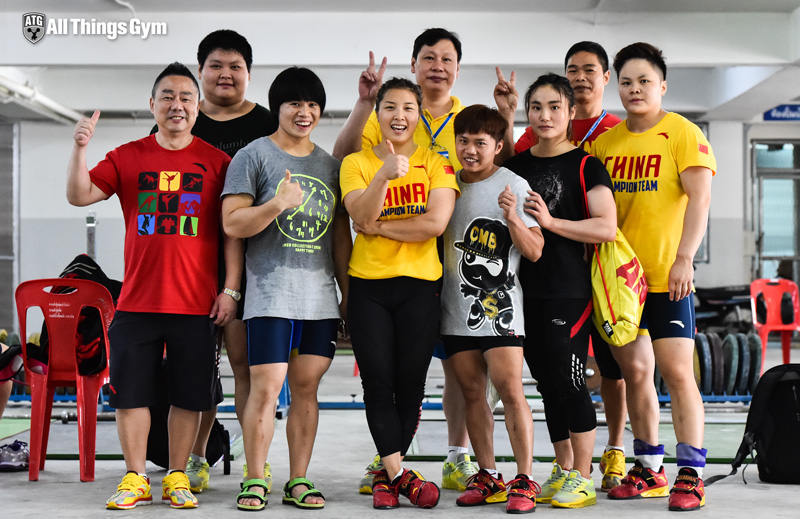 (04.09) Today we went to the competition venue & training hall and already wanted to leave because it was empty. Good thing we didn't, because 20 minutes later the place was packed (team China, North Korea, TPE, and many more).
Here is Li Ping (correction: 58kg, China) squatting triple 2.75x bodyweight for two reps.
160kg. Looking forward to the days to come.
Hoogrip's Training Hall video of team China from day 1.
Recordings
Results
All results are in PDF format.