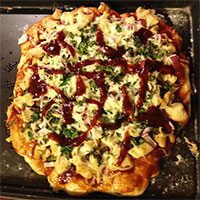 Check out this thread "I call this "bodybuilder pizza" and it is easy and delicious."
As one commenter notes
Basically, buy a pizza and shove 1lb of chicken on it.
Ingredients:
1 pound chicken breast (I use Gold 'n Plump split breasts)
medium sweet red onion
Cilantro
about 1/4 cup of your favorite barbecue sauce
pizza dough mix or flatbread or make your own dough if you're more experienced.
Fat free Mozzarella (or cheese of your choice)
salt n pepper
Directions:
Preheat oven to 350 while you do the rest of the steps.
Cook chicken, seasoning with salt and pepper as needed and cut into bite size pieces. (I cut it up while it is raw and toss them with macademia nut oil before seasoning. Cannot cut them up first if you're planning on grilling them.)
Set chicken aside to cool a bit
place crust of your choice on cookie sheet or pizza pan/stone
Take spatula or bbq brush and spread very thin layer of BBQ sauce onto crust.
Pat chicken dry, gently, with paper towl to remove excess moisture (don't want a soggy crust)
Add finely chopped cilantro and onions
Cover mixture with cheese. Add a bit more cilantro on top.
Place in oven for 10 minutes
open oven, drizzle a small amount of BBQ on top and rotate pizza.
Cook for another 5-10 minutes or until cheese is bubbling.
Macros Info for crust + sauce + chicken:
serving size – 1/4 Pizza
Chicken — 23g Protein, 2.5 grams fat, 0 carbs, 110 calories
Crust (for one I linked) — 4g protein, 2g fat, 33g carbs, 160 calories
BBQ (sweet baby ray) — 1 tbsp, 0 protein, 0 fat, 17g carbs, 35 calories
total = 27g protein, 4.5g fat, 50g carb, 305 calories