Mogwoggle on reddit  put together a really nice spreadsheet that combines the Smolov Jr. and  5/3/1 into one program.
I put together a spreadsheet (based off of MEatRHIT's original Workout2.xls file) that incorporates both of these, with a light bench that allows to test a 1RM on the deload week. OHP also shows up on deload week, in case you wanted to give it a go as well.
got to File – 'Make a Copy' or 'Download as'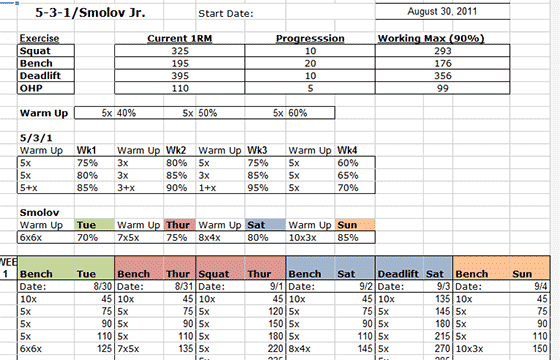 If you are not familiar with the Smolov JR. system, it looks like the following.
Also read the Smolov Squat Routine FAQ.
Smolov Jr. – Intensity Sets/Reps
WEEK 1
Sunday 70% 6×6
Tue 75% 7×5
Thurs 80% 8×4
Fri 85% 10×3
WEEK 2
Sunday 70% 6×6 Add 10 – 15lbs (larger increase for larger muscle groups)
Tue 75% 7×5 Add 10 – 15lbs (larger increase for larger muscle groups)
Thurs 80% 8×4 Add 10 – 15lbs (larger increase for larger muscle groups)
Fri 85% 10×3 Add 10 – 15lbs (larger increase for larger muscle groups)
WEEK 3
Sunday 70% 6×6 Add 5 – 10lbs to week 2's weights
Tue 75% 7×5 Add 5 – 10lbs to week 2's weights
Thurs 80% 8×4 Add 5 – 10lbs to week 2's weights
Fri 85% 10×3 Add 5 – 10lbs to week 2's weights