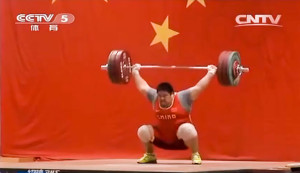 Meanwhile in China …
After we saw the men's competition yesterday, here is a video of the Chinese women's test event.
Zhou Lulu Snatched 145kg and Clean & Jerked 189kg .
It's being reported that Dang Wei tied the 63kg Clean C&J World Record, which stands at 143kg. Note, she did do 144kg before.
Update 26.09.2014: Zhou Lulu set a new Clean & Jerk World Record with 192kg!
Watch Tatiana Kashirina's 190kg Clean & Jerk World Record.
Update: Finally an opportunity to post the Zhou Lulu Love Song!