Kelley Starrett on improving the squat / snatch receiving position.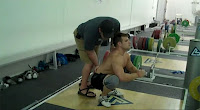 Squat Partner Stretch
This is a nice stretch similar to what Glenn Pendlay showed in his hip and ankle mobility video where he pushed against Jon North's back in the squat.
Drill:
put a rubber band around the hip (not in lumbar region, but on top of the sacrum)
create tension
drop down into the squat with knees out and hang out
Modification:
use a weight vest
have someone push you down
Check out more drills on Mobility 101.
Check out Mobility 101 for more mobility awesomeness.